POWDER METAL MANUFACTURING OF AN ADJUSTING NUT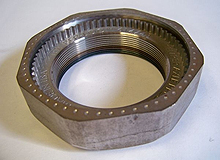 This Adjusting Nut used in a break system is an ideal Powder Metal item.
PM offers unparalleled flexibility and cost effectiveness in the production of complex components such as this 4 3/4" hexagon Adjuster shown on the left. The internal gear, multiple cross-sections and the small dimples on its face are all compacted with the PM tooling. Each of these features will be very costly machining operations with other metal working techniques. Complex geometry of this kind readily lends itself to PM manufacturing.
After compacting and sintering, this part must be subjected to additional threading and heat treating for its completion. In this case the customer wishes to perform these operations. However, RPM normally ships completely finished products with any/all of the required machining, heat treating, plating, etc. steps applied.
Engineers at Ridgway Powdered Metals are eager to assist its customers in the design of their custom PM components. RPM Engineers and/or its Sales Representatives can consult with customers about the most economical way to produce accurate, high quality parts with their required dimensions, tolerances and geometry. For more information about this custom powdered metal component project please contact us directly.
Request Quote
Highlights of the Powder Metal Manufactured Adjusting Nut for Trailer Break Systems
Product Description:

Axel Bearing, Adjusting Nut
Powdered Metal Capabilities Applied/Processes

Primary:


Engineering
Tool Making
Process Sourcing
Compacting/Molding
Sintering

Secondary:


Machine - By Customer
Heat Treat and Draw - By Customer
Equipment Used to Manufacture Part

550 Multi-Platen Compacting Press
Overall Part Dimensions

Outside Diameter - 4.745 Hex.
Weight - 1400 grams
Tightest Tolerances

0.006" on all dimensions
Material Used

FC-0208-50
In process testing/inspection performed

Dimensional Inspection, Gage Inspection, Hardness Testing
Industry for Use

Trailer Break Systems
Volume

10,000 +
Delivery/Turnaround Time

4 Week Delivery
Delivery Location

NY & MI
Standards Met

Customer Specifications, 2D CAD Drawing
Product Name

Axel Nut
View Our Product Examples