POWDER METAL MANUFACTURING OF A DRIVER PULLEY HUB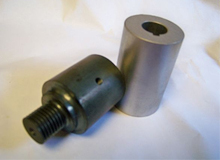 This part was chosen to be profiled to illustrate the excellent machinability of PM when the correct materials are chosen.
The Driver Pulley Hub began as a pressed and sintered Ø 1.750" OD X 2.875" long cylinder with a Ø 0.750" X 1.750 deep keywayed ID. At this point it was given to the machine shop for completion. A Ø 1.250" X 1.190 body was first machined on its closed end. That was then machined into a 3/4 - 14 threaded detail. Two holes were drilled through its OD into the center hole and #10-32 threaded.
With all of this secondary work the part still provided a significant cost reduction over its machined bar stock option.
Engineers at Ridgway Powdered Metals are eager assist its customers in the design of their custom PM components. RPM Engineers and/or its Sales Representatives can consult with customers about the most economical way to produce accurate, high quality parts with the required dimensions, tolerances and geometry. For more information about this custom powdered metal component project contact us directly.
Request Quote
Highlights of this Driver Pulley Hub for an Industrial Sweeper
Product Description

Driver Pulley Hub
Powdered Metal Capabilities Applied/Processes

Primary:


Engineering
Tool Making
Process Sourcing
Compacting/Molding
Sintering

Secondary:

Equipment Used to Manufacture Part

Standard Molding Press
Overall Part Dimensions

OD Ø 1.750";
Length – 2.875";
Weight: 652 grams
Tightest Tolerances

– 0.002" on the I.D
Material Used

FN-0208
In process testing/inspection performed

Dimensional Inspection, Gage Inspection, Hardness Testing
Industry for Use

Industrial Sweeper/Scrubber
Volume

2,000
Delivery/Turnaround Time

4 Week Delivery
Delivery Location

MN
Standards Met

Customer Specifications, 2D CAD Drawing
Product Name

Driver Pulley
View Our Product Examples