Custom Powder Metal Services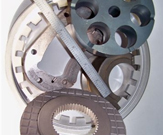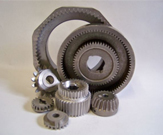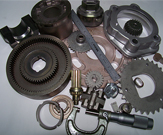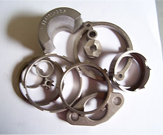 Advantages of the PM process:
Ridgway Powdered Metals, Inc. is a true pioneer in this industry having aggressively invested in the technology and equipment which allows it to take full advantage of its many benefits.
Among PM's advantages are:
Eliminates or minimizes machining by producing parts at - or close to - net shape
Eliminates or minimizes scrap losses by typically using more than 97% of the starting raw material in the finished part
Permits a wide variety of alloy systems – some brand-new, others RPM proprietary grades – for customers' items.
Produces good surface finish – 32 RMS or better
Provides heat-treatable materials for increased strength, wear resistance and durability
Provides controlled porosity for self-lubrication or filtration
Facilitates manufacture of complex or unique shapes which would be impractical or impossible with other metalworking processes
Is suited to moderate to high volume component production requirements
Offers long-term performance reliability in critical applications
Is a "GREEN" and SUSTAINABLE industry
Is cost-effective - minimal average cost advantage is 30% (others more than 100%) over other metal working technologies
Our modern facilities list includes:
30 presses whose compacting forces range from 4 through 550 tons, and whose large presses include 5 level capabilities
Sintering furnaces – both conventional and high-temperature units – with large volume production capacities and precise controls for each application
Ancillary deburring, impregnation and other secondary apparatus are on hand and available for customers' critical applications.
RPM manufactures parts measuring from 0.06"to 4.0" long with diameters from 0.25" to 6.0" and weights from a few grams up to 8 lbs.
RPM consistently achieves net shape tolerances as low as ± .0003" on horizontal surfaces
Production rates are rapid at RPM, and dimensional integrity is maintained from part to part, order to order.
Applications are almost limitless, and prices are very reasonable.
Contact Us today to learn how our custom powder components can provide a cost effective option for your next project.

Materials:
RPM builds parts in all of the standard Metal Powder Industries Federation (MPIF) grades as well as RPM proprietary grades. (Information by request)
(See "Materials Standards for PM STRUCTURAL PARTS", and "Materials Standards for SELF-LUBRICATING BEARINGS" MPIF Standard 35)
Listed below are some of the more common grades and their possible applications:
(It is recommended that you discuss material selection with RPM Engineering prior to specifying one for your application.)
Material

MPIF CODE
Characteristics
Iron

F-0000
Electro-Magnets
Iron/Carbon

F-0003/F-0008
Moderate Strength, Heat treatable
Iron/Copper/Carbon

FC-0200 to FC-0208
Good strength and wear resistance, Heat treatable
Iron/Nickel/Carbon

FN-0200 to FN-0408
Good impact strength and wear properties, Heat treatable
Alloy Steels

FLN2C-4005 to FLDN4C2-4905
A wide variety of materials with specific properties to match the critical requirements of the application – all are Heat treatable
Copper Infiltrated Steel

FX-1005 to FX-2008
Good strength, improved machinability, gas tight Heat treatable
Stainless Steel

SS-303, SS-304, SS-316, SS-409,
SS-410, SS-430, SS-434, 17-4PH
Select the stainless grade that will satisfy your requirements for corrosion resistance, ductility, machinability, etc.
Copper

C-0000
Electrical applications
Bronze

CT-1000
Self-Lubricating Bearings
Brass

CZ-1000, CZ-2000
Mechanical components and Hardware
Tolerances
Below are shown the typical tolerances for PM parts having uniform cross-sections.
Characteristic

As Sintered

Decimal

Metric

As Sized or Coined

Decimal

Metric
Length
Inside Diameter
Outside Diameter
Concentricity
Flatness
Parallelism
Perpendicularity

± 0.005"
± 0.002"
± 0.002"
0.003
0.002
0.002
0.002

±0.126
±0.051
±0.051
0.076
0.051
0.051
0.051

± 0.002"
± 0.0003"
± 0.001"
0.003
0.002
0.002
0.002

±0.051
±0.008
±0.0025
0.076
0.051
0.051
0.051
Some dimensional and feature tolerances may be reduced with secondary machining and grinding operations.
Discuss those possibilities with RPM Engineering.
Industries served
Automotive

The largest market for PM parts
Home Appliances

Virtually every appliance in use today contains some PM parts
Power Tools

PM parts have helped to make them available and inexpensive
Fluid Power

High-density and copper infiltration produce pressure retaining components
Lawn & Garden

That lawn mower, hedge clipper and others are full of PM parts
Agriculture

See that big green or yellow or orange machine in the grain fields - they are all using many PM parts
Construction

Even the mighty bull-dozer must rely on certain PM parts
Motors

Self-lubricating bearings and PM magnets (electro and permanent) keep the motors running
Off-Road

Both for utility and sport
Recreation

Fishing reels and skate boards, outboard motors and bicycles, guns and golf clubs, and many more use PM parts
Hardware

Fasteners, washers, bushings, connectors, spacers, and all sorts of necessary products
Business

Computers, shredders, printers, recorders, fax machines happily find PM parts just what they need
Vending

Multiple applications
Conveyors

Rollers, cams, sprockets, gears
Materials handling

Connectors, latches, fingers, catches, pushers and many more
Miscellaneous

Exercise apparatus, cutter blades, gas filters, weapons, munitions, etc., etc., etc.
Design considerations
Many features that are found on parts made with other metal working techniques are there due to how they were built. PM usually can eliminate them.
PM parts can be produced with great geometric complexities. There are feature considerations, somewhat unique with PM, that should be avoided. Some are listed below.
No feature that would resist ejecting parts from tools: reverse tapers, holes other than in the direction of pressing, threads, undercuts, diamond knurls (all of these can be included using secondary machining)
Thin walls, narrow splines, fine pitch gears (finer than 48 pitch) and sharp corners should be avoided
Features that require very delicate tools to compact – due to the very high compressive forces needed to compact metal powders.
Vertical lengths not to exceed ratios of 4 to 1 of their horizontal ones on heavy-walled objects; 2 to 1 on thin-walled ones
Knife or feather edges should be designed out of parts
Small projections on top faces of parts need to be large enough to allow for tool safety, ease of ejection, and be located inboard from outside edges of parts.
It is always good practice to discuss your parts – those having questionable features – with RPM Engineering.
Virtually any feature that would create problems or be impossible to compact with hard compacting tooling can be added using machining operations.
Whenever a part can be modified to eliminate the additional secondary operations its price will obviously be more advantageous.
Contact Us today to learn how our custom powder components can provide a cost effective option for your next project.